Feel Thirty Again "Literally"
Repair Cell Function • Increase Energy Levels • Improve Mental Clarity
Chewable Berry Flavored Wafers
Dr. Garth Nicolson, a leading authority on Cellular Medicine and author of over 600 medical and scientific publications. He is the President and Founder of The Institute for Molecular Medicine in Huntington Beach, California.
Vibrant & Clear Phospholipid Wafers do what antioxidants can't do. People take antioxidants to slow the oxidative damage to their cells that happens every day of your life. The lipids in these wafers actually repair the oxidative damage that can only be slowed by antioxidants.
In fact, one study of persons 70 and older found cellular membrane function was restored to that of a 30 year old in just 8 weeks. Healthy cells mean a healthy body. You will feel better, look better and have a better quality of life. Get back to the things you love to do and that mean the most to you.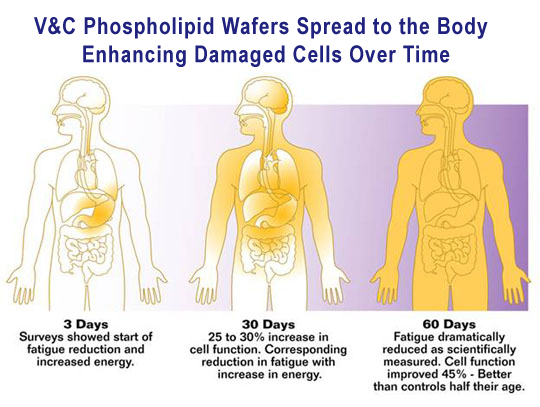 What the Studies Showed
We have over 15 years of proven research to show its overall effectiveness in aiding in the return of proper cell function through Lipid Replacement Therapy. Pivotal studies have been conducted at UCLA, Henry Ford Hospital and The Institute for Molecular Medicine and others.

In one of these studies using the Piper Fatigue instrument overall fatigue among participants was reduced an average of 40%. All of the subcategories of fatigue showed significant reductions. Some subjects responded within 15 minutes, and the majority responded within one hour with increased energy and activity and perceived improvements in cognitive function, mental clarity and focus.
Used by Medical Professionals and Now Available to You
Vibrant & Clear Phospholipid Wafers can restore your energy and reduce fatigue. Research proves that the nutrient compound found in each wafer, also repairs and restores your body's cells. That equals pure energy!

Each ALL NATURAL and DELICIOUS berry flavored wafer gives you the purest form of energy. They don't amp you up. It works on the cellular level to help your body produce its own energy - the way nature intended. Based on the research, it is effective and most importantly, SAFE.
What is Lipid Replacement Therapy?
Lipid Replacement Therapy (LRT) is the replacement of damaged lipids using a dietary supplement containing polyunsaturated phosphatidylcholines, phospholipids and fatty acids that are essential structural and functional components of all biological cell membranes. Vibrant & Clear Phospholipids Wafers offer 1200 mg per chewable wafer of superior, human cell membrane matching, pristine phospholipids.
The Importance of Phospholipids and Mental Clarity
Phospholipid content begins to decline in the brain starting in the mid-thirties and falls more strongly by mid-fifties. This can often cause lack of concentration known as "brain fog".
Because the brain uses 20% of the oxygen we take in, phospholipids in the brain are more susceptible to oxidative damage that occurs over time and need to be replaced.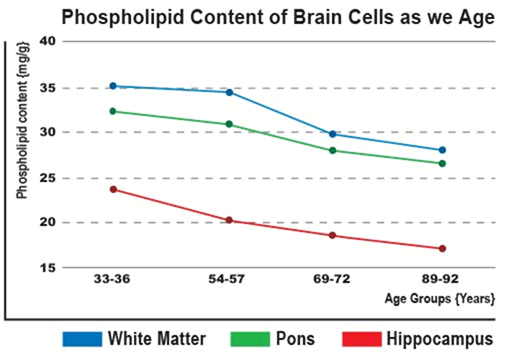 Research has shown that as we age, the amount of phosphatidylserine (PS) in our brain cells begins to decline. While PS is found in dietary sources such as dairy products and organ meats, intake of such products generally decrease as we age. Supplementing dietary intake of PS helps to restore levels of PS in our brain cells. Specifically, PS has been shown to improve memory retention and support mental concentration. Furthermore, PS is the only cognitive health ingredient for which the FDA allows a qualified health claim.*
What People are saying about Vibrant & Clear Phospholipids

Most of our patients rave about the experience they have with it. As a matter of fact, I just had a patient who was non responsive to thyroid therapy who started on the phospholipid wafers, and finally found she had the energy she had been looking for, that had been missing in her life for quite some time.
Dr. Brett Jacques

Our physicians are prescribing phospholipid wafers and I decided to try it prior to going skiing. I typically have muscle fatigue after the first day, and after using the wafers three times a day, I skied for four days, and felt fabulous! I love Vibrant & Clear Phospholipid Wafers.
Linda Keil, RN

The scientific evidence is compelling, but most importantly, my experience with grateful patients and radio listeners convinces me that Vibrant & Clear Phospholipid Wafers represents an exciting new key element in a multi-pronged nutritional program to halt and reverse degenerative diseases.
Dr. Ronald Hoffman, MD

What I have experienced personally is that this product does what the clinical evidence says without any side effects. I will continue to consume 3-4 wafers per day and begin sharing with all of my clients.
Brian E. Moore, MD

I prefer to take a healthy supplement and I found taking the vibrant & clear energy wafer not only works with giving that boost, it cleared my headaches as well. I could not be more pleased with this product and mainly because it just works as advertised. Thank you.
D.B. New York
43 Years Old
I am just blown away that many Physicians, Residents, Rn's and staff, that I know, agree with me on how well energy wafers work. If you need energy-"naturally" and sustain the energy, for anything you do in life…this is your last product you will every buy.
Jerome B. (Illinois)
Father / Husband
I have been using them twice a day for five weeks now. WOW, what a difference. No peaks and valleys, no jitters, no crashing! I feel alert and my energy has been more balanced throughout the day, allowing me to be more focused throughout work and more energetic when I get home to my family. Thank you for creating this product. It is nice to live in balance again!
Mike C.
New York
I never write testimonials like this, but I felt this product really deserved it. I've been taking Vibrant & Clear Wafers for two days now. I can say with complete confidence and honesty that I feel a huge difference in my energy and level of alertness.
Tony R.
Rye, NH
I have felt more energy in the past year (Less naps 1 month after taking 3 per day). My mental cognition and sleep has improved significantly as well. The company is excellent and I trust the lipid compound is superior.
S. N.
Tampa, FL
The Energy Wafers are truly a blessing. Not only do they taste good but my clients find that they give them long-lasting stamina and endurance."
Nina A.
MA Specialist in Performance Nutrition.
These wafers are amazing. The perfect amount of phospholipids provides me with a sustained energy that lasts all day long. The flavor is delicious as well. I have shared these with all of my friends and family and they are all ordering these now. Thank you for offering this fantastic product.
Sheila C.
Chicago, IL
I just to let you know that I have been using the vibrant & clear phospholipids---3 per-day. Maybe for a month. Awesome!!! Sleep issues gone. Energy way up. A real game-changer. Thanks for everything.
S.W.
As a fibromyalgia and chronic fatigue sufferer I am happy to report that the Vibrant & Clear Phospholipids have been a very welcome product! After using them for two months, taking 2, 3x daily, they have helped to increase my energy and mental clarity, as well as physical pain and fatigue. I am using natural herbal remedies to treat cancer that have been hard to tolerate because they lock up my energy distribution.
The Vibrant & Clear Phospholipids help address this issue. Such welcome relief! When I ran out I definitely notice the difference! Won't let that happen again! It is so awesome that supplements such as these really help me feel more normal and function at a much higher level, both physically and mentally! As a biofeedback technician and nutritional consultant I will be recommending these products to clients, friends, and family!
S.A.
What is in Vibrant & Clear Phospholipid Wafers?
Vibrant & Clear Phospholipids are non-GMO and the raw materials used are verified with PCR testing.
The Patented Compound found in Vibrant & Clear contains fractionated lecithin's that include but are not limited to:
Phosphatidylcholine (PC)
Phosphatidylinositol (PI)
Phosphatidylethanolamine (PE)
Phosphatadic Acid (PA)
Digalactosyldiacylglycerol (DGDG)
Phosphatidylglycerol (PG)
Lyso-Phosphatidylcholine (PC)
Lyso-Phosphatidylethanolamine (PE)
Phosphatidylserine (PS)
Monogalactosyldiacylglycerol (MGDG)
Lyso-Phosphatidylglycerol (PG)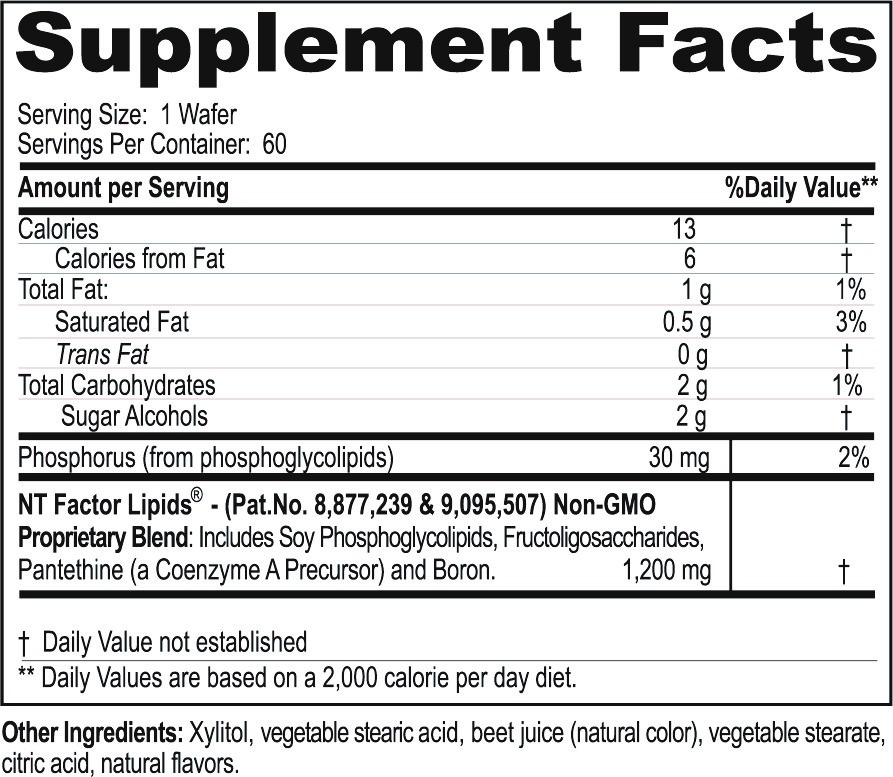 This product is soy protein and soy isoflavone free, however the starting material used to cultivate the NT Factor compound is NON-GMO soy.
Who Am I Buying From?

Markit Health, LLC conducts comprehensive analyses into superior supplements and products that help create wellness. Thousands of hours of research and hundreds of interviews with doctors and scientists have guided our company in offering this exclusive product line. Our products cover everything from general health and wellbeing, athletic performance, vibrant aging to condition specific supplements for persons who are addressing more serious health issues.
These products are not available in any health store or vitamin shop but are used by hundreds of clinics and health care professionals across the United States and abroad.


This Site is Operated by Markit Health, LLC
©2018 Markit Health, LLC. All rights reserved.
These statements have not been evaluated by the FDA. These products are not intended to diagnose, treat, cure or prevent any disease. The information provided on this site is for informational purposes only and is not intended as a substitute for advice from your physician or other health care professional or any information contained on or in any product label or packaging. You should not use the information on this site for diagnosis or treatment of any health problem or for prescription of any medication or other treatment. You should consult with a healthcare professional before starting any diet, exercise or supplementation program, before taking any medication, or if you have or suspect you might have a health problem. You should not stop taking any pharmaceutical product without first consulting your prescribing physician.